The Authorized Klin Zha Homepage
---
About TAKZH and the Webmaster
---
E-Mail the Webmaster at .

Link to the Webmaster's personal homepage.

Read commentary by the Webmaster, Korath and John "Mike" Ford.


---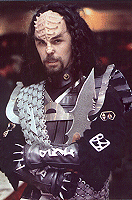 I first learned the game of Klin Zha back in 1992, soon after I joined the Klingon Assault Group. From the club's commander, I had borrowed a huge stack of backissue "Agonizer" fanzines, including a recent suppliment detailing rules for the game Klin Zha.
To be honest, I didn't do much with it for several years. Sure, I learned the rules and played a few games but noone seemed interrested in the game.
In 1995, I attended my first Dover Peace Conference and played a game of Klin Zha, sitting on the hallway floor. I got my ass kicked because I didn't know the variant rules that my opponant was using. It almost drove me from ever playing the game again. But, several things happened: I finally got an Internet service provider and I discovered that Korath (Len Loyd), original author of the rules for Klin Zha, actually lived a few blocks away. In fact, I had known Len for years through the SCA without knowing he was a Klingon as well.
I put the two of them together and The Authorized Klin Zha Homepage was born.

For those interrested in what I do otherwise, I am a Help Desk Analyst for a major bank in Pittsburgh. I am 36 years old, married and have one daughter.