The Tabletop Trebuchet


After discovering that the double sized-machine I had built for the Carnegie Science Center was, in fact, too big, I went back and divided all my measurements in half. This gave me a machine nearly identical in dimensions to the &quote;Cheesechucker" machine I had originally copied.

The half scale machine went together in two hours. Adjusting the sling and such took a little longer but it wasn't long before I was chucking water-filled ping-pong balls about 20 feet into a garbage can. Swish every time. The person in charge of lobby activities at the science center's overnighter programs wanted several so I built three more. They went over very well.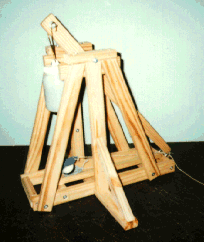 Plans for the tabletop trebuchet